Several tracks by deadmau5 and even Joel Zimmerman himself have been featured in many video games.
Physical Appearances
DJ Hero 2
Deadmau5 appears as a virtual character in the video game DJ Hero 2. He is also a playable character, however he can only be a playable character if unlocked in story mode. It features remixes of the songs "I Remember", "Move For Me", and "Ghosts 'n' Stuff".
Goat Simulator
Deadmau5 appears as a non-playable character after you reach the top of the tall tower in Goat City Bay. Finding deadmau5 gives you the ability to play the track "Petting Zoo". This also gives you a mau5head and the title 'deadgoa7'.
Family Guy: The Quest for Stuff
Deadmau5 was an unlockable character featured in a limited time event in Family Guy: The Quest for Stuff during 2015. Unlocking him would give the player a redemption code that they could use to redeem a free download of 4x4=12.
Nonstop Knights
A deadmau5-inspired character was featured in Nonstop Knights, unlockable after you beat The Deadmau5 Challenge. Joel Zimmerman used the design in the cover for the private preview of the track "Legendary".
Absolut Deadmau5
Absolut Deadmau5 is a VR experience that is a direct homage to deadmau5, which includes references to his car collection and his cat Meowingtons. Zimmerman himself was even involved with the development of the game, providing animations for his avatar via motion-capture. The game features the track "Saved".
Soundtracks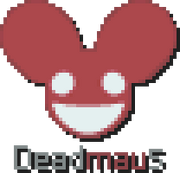 Dota 2 features the Dieback Music Pack.
Grand Theft Auto: Chinatown Wars has a radio station named after deadmau5, featuring the tracks "Hi Friend!" (Instrumental Mix) and "Rubiq" from Project 56. It also plays several BSOD tracks.
Saints Row: The Third features "A City in Florida", playing during the boss fight against Matt Miller.
FIFA 13 features "Professional Griefers".
Grand Theft Auto IV features "One + One - "No Pressure" (Deadmau5 Remix) and "I Thought Inside Out" on the radio station Electro-Choc.
Need for Speed: Most Wanted features "Channel 42".
Need for Speed: Hot Pursuit features "Sofi Needs a Ladder".
Need for Speed: Shift features "Ghosts 'n' Stuff".
Midnight Club: Los Angeles features "The Oshawa Connection".
GoldenEye 007 features "I Remember".
Wipeout 2048 features '"Some Chords".
The Sims 3 features "Professional Griefers".
Asphalt 8: Airborne features "Professional Griefers".
Test Drive Unlimited 2 features "Ghosts 'n' Stuff".
Sound Shapes features the tracks "Break-a-noids", "Disasteroids", "Galaxanoids"', and "Invaderoids".
Gallery
Community content is available under
CC-BY-SA
unless otherwise noted.