We're Getting Mutants in the MCU - The Loop
Play Sound
"FUCK!"
This article is a stub. You can help Deadmau5 Wiki by expanding it.
Thank you!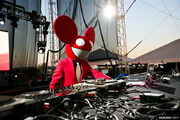 The following is a timeline of important events in the history of Deadmau5.
Pre-2005
1999- Zimmerman's releases first single "I Don't Want No Other" under Dred And Karma.
2002- "My Opinion" and "Superlover" are released on Section Z Vol. 1 under the names Deadmau5 and Halcyon441[1].
2002- Deadmau5.com is registered.
2005
2006
April 5th- Deadmau5 Circa 1998-2002 and Project 56 are released for free on SectionZ.
June 12th- Get Scraped is given a digital release with a different tracklisting.
October 25th- BSOD releases first single "This is the Hook".
November 6th- Vexillology is released.
2007
2008
January 18th- First live appearance of the Mau5head at Halifax.
September 2nd- Random Album Title initially releases digitally.
May 14th- Move For Me,, the first collaboration with American DJ Kaskade and English vocalist Haley Gibby is released.
June 18th- Move For Me Remixes are released.
Deadmau5's second collaboration with Kaskade and Haley, titled I Remember, is released.
2009
2010
September 22nd- Deadmau5 performs at the 2010 MTV Video Music Awards.
December 10th- 4x4=12 is released.
December 18th- Deadmau5 headlines Earls Court, being the first ever electronic artist to do so with a 17,000 capacity.
2011
August 3rd- The Talenthouse mau5head contest winner Lance Thackeray is announced, the winning design being the cheesehead.
2012
2013
November 12th- 7, a self-released extended play, is released.
2014
November 24th- 5 Years Of Mau5, a greatest hits album, is released.
2015
May 11th- Vexillology is re-released by Play Records.
2016
October 7th- Deadmau5's third and most recent collaboration with Kaskade, titled Beneath With Me, is released. The vocalist featured in the song is Skylar Grey.
December 2nd- W:/2016ALBUM/ is released.
2017
March 3rd- A compilation album titled Stuff I Used To Do is released.
2018
March 30th- A compilation album titled Where's The Drop? is released.
July 13- Mau5ville: Level 1 is released.
2019
January 25th- Polar, an album made for the Netflix film of the same name, is released. This is Deadmau5's first and, to date, only film he's ever scored.
February 1- Mau5ville: Level 3 is released.
References