Jurassic World: Dominion Dominates Fandom Wikis - The Loop
Play Sound
"Let Go" was the second single deadmau5 released from his eighth studio album ,W:/2016ALBUM/, featuring Grabbitz. It was released on November 18th, 2016.
Background
Zimmerman originally found Grabbitz by a vocal edit of the While(1<2) track "Silent Picture", similarly to how he found Chris James. He liked his vocals so much that he soon contacted Grabbitz via Twitter, stating he would like to finish the track.
The first demo of the song appeared in 2015 on deadmau5's website and YouTube, titled "aaddsfffsfsf". However, this was cancelled and later turned the track into "Fanaus", a melody that was featured in the royalty free Chimaera pack in 2016.
Despite the melody "aaddsfffsfsf" being used in the Chimaera pack, Zimmerman re-continued the project. A brand new demo of the song was released on deadmau5's SoundCloud, under the name "Blood for the Bloodgoat". It remained unreleased until the release of W:/2016ALBUM/, where a shorter edit was featured.
On December 8th, 2017, a Grabbitz edit of the song was released on mau5trap's We Are Friends Vol. 7.
Lyrics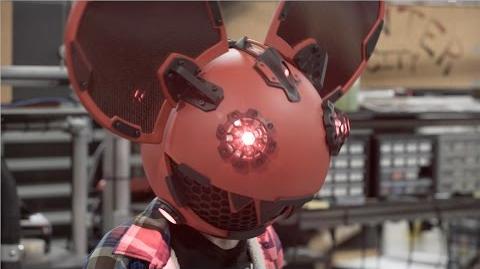 I know you look the other way
I know you long for something new
So there you wasting all your day
Looking for something that is right in front of you

And I - just want them to notice you
And I - I'll never let go of you

There's something flying in the air
And I just don't know what it could be
Smoke is flying everywhere
I'm getting the feeling it's the end for you and me

And I - I know that we might be through
But I - I'll never let go of you
I'll never let go of you

I know you look the other way
I know you long for something new
So there you wasting all your day
Looking for something that is right in front of you

And I - just want them to notice you
And I - I'll never let go of you

There's something flying in the air
And I just don't know what it could be
Smoke is flying everywhere
I'm getting the feeling it's the end for you and me

And I - I know that we might be through
But I - I'll never let go of you
I'll never let go of you
Releases
Download
"Let Go" (Original Mix) (6:18)